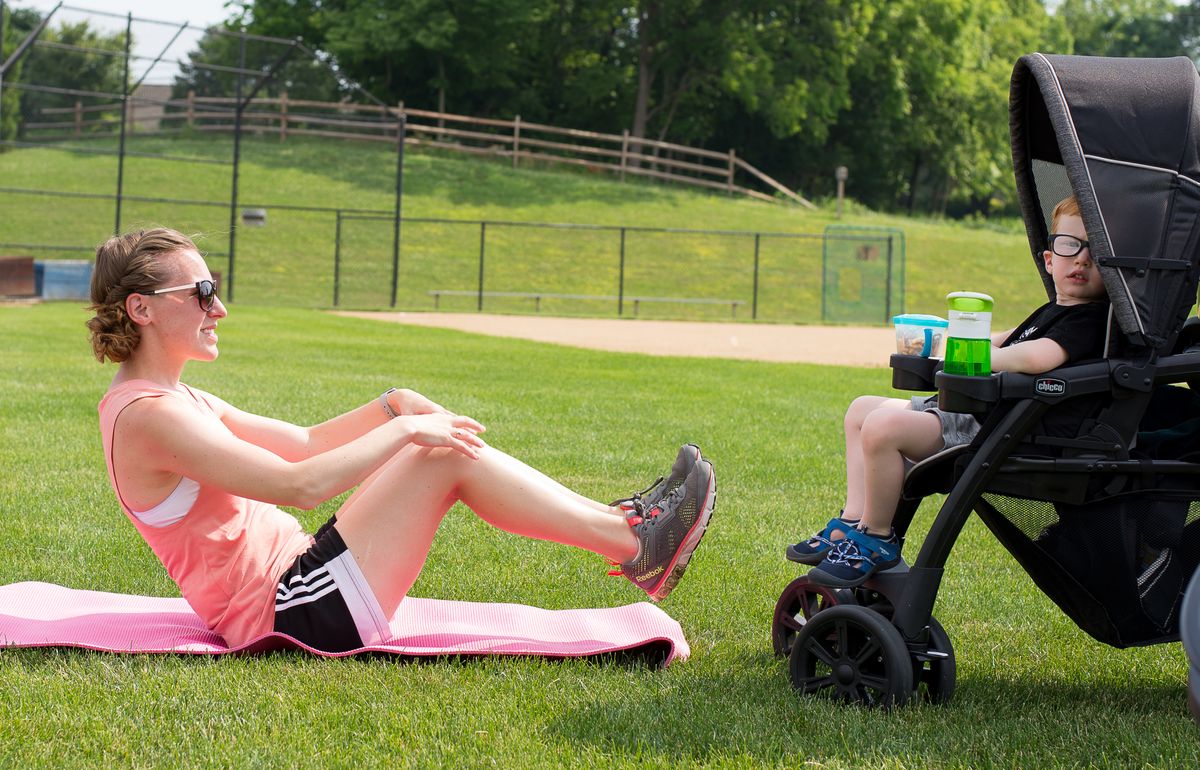 Stroller Policy
Children who attend our Stroller classes are expected to stay strapped and in strollers throughout class for the safety of everyone in attendance. Please do not remove your child from the stroller until our final core/cool down station is complete.
With that said, if your child needs a break before the final station:
~ Infants:
When a baby gets fussy and needs to be tended to (rocked, fed, changed, etc), please do so at any time, as long as it's out of the way of fast-moving mamas and resistance bands. Another option for moms with infants is to bring a carrier, and wear your baby when he/she is not responding to your usual soothing techniques. At that time, instructors will caution you not to perform exercises that include jumps, fast movements, single-leg balance, or inversions that could put you and your baby at risk.
~ Mobile Children:
If your child is not responding to snacks, toys, books, songs, etc, you can always walk your stroller away from the group, give him/her a break, and rejoin us when he/she is back in the stroller. Moms may not continue working out while a crawling or walking child is out of his/her stroller. The mom and out-of-stroller child must be away from the group during the break. Mobile children can get in the way of the moms or resistance bands, which could result in injury to moms and children alike. We never want to see this happen, so please adhere to the policy above and ask any of our instructors if you have any questions.
~ School Age Children :
Elementary aged children (5 and up) may be present and not in a stroller during class IF the following policy is followed. For safety reasons, we ask that older children remain within arms reach of their guardian during class at all times. Children must sit during station exercises and are prohibited from playing with the fitness equipment used for class. School age children can walk with their guardian from station to station, but no scooters or bikes may be used. If older children wish to play with other older children, we ask that they remain around one mom and that this is agreed upon between both moms prior to class.
FIT4MOM Reading assumes no responsibility.
If you have children younger than 5 that need to be out of a stroller due to limited stroller space (3+ children), we ask that you and your children adhere to the above outlined policy for school age children, to help keep both moms and kiddos safe.
SAFETY FIRST - thank you for all your hard working 'MOMMING' - day in/day out!
PARKING LOT SAFETY!
Please keep an eye on your child/children while in the parking lot.
We utilize a public parking lot and cars are not always moving slowly or on the look out for small children.
It may be best to unload and get your stroller ready while your child/children are still strapped into their carseat. For the safety of all children we will meet in the grass area below the baseball field.
To help eliminate children running around the parking lot, please try to gather in the grass vs around vehicles.